Dina Lorenza has a full name Dina Lorenza Audria, known as a model actress, soap operas, movies and presenter. She was ever acted together in a soap opera with actor Irwan Chandra in action soap opera Buce LI.
She was born in Jakarta, May 22, 1975, age 35 years) is a actress and presenter of Indonesia.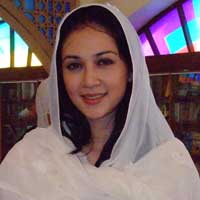 Profil Dina Lorenza (kapanlagi)
Dina Lorenza Profile
Full Name : Dina Lorenza Audria
Name : Dina Lorenza
Birth Date : 22 May 1975 (age 35), Jakarta, Indonesia
Occupation : Model, Actress, Presenter
Active year : 1995 – present
Spouse :
– Muhammad Herukusuma (devorce)
– Ghatan Saleh Hilabi
Child : Malika Alea Casta
Biography:
Dina herself is a former wife of national rally driver Mohammed Herukusuma who officially divorced on October 13, 2003, when their marriage reception party held March 9, 2002. From the marriage they were blessed with a daughter named Malika Alea Casta.
Later, Dina married with Gathan Saleh Hillaby known as former husband of actress Cut Keke. Second marriage was originally scheduled on Saturday (06/21/2008), but finally postponed on Sunday (29/06/2008) because Dina's Sick .
Case :
– Date February 26, 2011 Ghatan was reported for alleged possession of weapons without permission.
Cinematography :
Soap opera
* Keluarga Van Danoe Starvision Plus
* Gerhana Starvision Plus
* Darah dan Cinta 2 prima entertainment
* Harga Diri 2 prima entertainment
* Hati Yang Terpilih Multivision Plus
* Buce Li Starvision Plus
* Tirai Kasih Yang Terkoyak starvision Plus
* Mutiara Cinta starvision Plus
* Kodrat sinemart
* Si Yoyo 2 md entertainment
* Putri Yang Terbuang sinemart
* Dua Cinta starvision
* Pintu Hidayah sinemart
* Rahasia Pelangi sinemart
* Maha Kasih 2 sinemart
* Ayahku Astuti (Layar Oke) indika entertainment
* Di Ujung Penatian (Layar Oke) indika entertainment
* Kakak Iparku 17 Tahun sinemart
* Soleha sinemart
* Candy sinemart
Filmography
* Ibuku Malang Ibu Tersayang (1990)
Photos :


(rujakmanis)
Dina Lorenza's Husband was Reported to Police :

References :
– Profil Dina Lorenza
– Profil Dina